The MSet program is a support tool for CAD Bentley products MicroStation, PowerDraft, PowerMap PowerCivil, Bentley Map PowerView and Bentley Map Standalone (hereinafter MicroStation) which increases the efficiency and comfort of drawing according to given rules – Instruction.
MSet, © 2002-2017, Graphicon, s.r.o.
History: the first version of the application was developed in 2002 under the name Xsettings.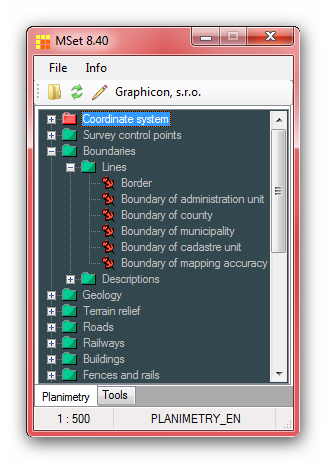 Actual version: MSet 8.40.
A new Beta version of MSet 9.00 is available since January 2017.
MSet uses the fact that almost all common tasks in MicroStation can be activated via text commands or so-called Key-Ins. After selecting a desired item from the MSet tree menu, one or more commands are sent to MicroStation. These commands are immediately executed in the same way as it would be entered in the command prompt of MicroStation. So, for example, the user can set the layer, color, thickness, line style, select the active cell, select the drawing tool etc. In more advanced cases the user can control the visibility of layers - both individually and in groups, connect/disconnect reference files, including managing visibility of layers of reference files etc. Drawing rules and their graphical representation in the tree menu are defined in the so called INSTRUCTION – saved in the XML file. The user can edit that file according to his requirements, or derive new instructions from it.
The structure of the Instruction is designed so that it does not have to repeat commands valid for the entire group of lower orders (tree), thus greatly improving the transparency of its registration. In the next figure is displayed fragment of the Instruction:

The OS requirements: MSet application is running on Windows XP SP3, Vista and Windows 7, 8/8.1 and Windows 10. All with Microsoft .NET Framework 3.5 SP1 and Microsoft .NET Framework Clent Profile actualizations.